Music has the power to provoke emotional responses, recall memories, lift moods, inspire, anthem, and invigorate movement. It can solidify a generation's voice or become a 'summer song'. Music has been an important factor in very important moments throughout his life, providing the soundtrack to historical eras, from the civil rights movement to his 1963 March on Washington. The late Congressman, civil rights leader and icon John Lewis once said: "Without music, the civil rights movement would be like a bird without wings."
Teaching and learning social studies and civics using a variety of topics such as music and storytelling form the core of Story Path, a unit-based program for kindergarten through eighth grade. The program was first developed in Scotland in his 1960s and has been developed over the last 24 years. It was introduced to local and national schools across the state by Dr. Margit McGuire, professor at the University of Education. It was a chance encounter on the plane that McGuire started a conversation with the math unit publisher. It was an epiphany for her to create and publish an interactive social studies unit for a national audience.
Fifth graders at Hazelwood Elementary School, and possibly future Grammy winners.
McGuire was instrumental in creating the framework for these instructional units, but before they were published and made available to educators everywhere, he worked with teachers in a pilot process to see what worked. help shape the outline of the unit. Tailor to your specific classroom or student and adjust accordingly.
In the latest Story Path unit, McGuire collaborated with her College of Education colleague, Dr. Laurie Stevan, who teaches courses in Education Studies and Social Justice, to create "Citizen Participation and the Power of Music." The mission is to have students create music that inspires people to take part in civic action or advocate for righting injustice.
"Music and art will always play a key role in issues of social justice," says Stevern.
This unit has five objectives. Learn the history of music and how music influences people's behavior. Brainstorming topic. Research a topic of your choice. Write a song based on the theme. Share that song with others to change their minds and thoughts.
More than just composition, these lessons cover areas of the music industry from instrumentation, composition, and copyright to audio engineering, production, and publishing rights, with links to past and present eras.
"I am always looking for a low-income school that has a lot of variety, because I feel that schools don't always have social studies and that every child deserves a really good curriculum. Because there is," says McGuire. "What excites me is how this experience transforms kids who weren't expecting you to excel. It gives them agency."
This spring, McGuire was team-teaching and piloting a unit with fifth-grade teacher Barbara Bromley at Hazelwood Elementary School in Lynnwood. Students work in small groups to help establish a music studio and, through the process, learn about collaboration and teamwork, problem solving and critical thinking. Additionally, for this unit, students participate in the final performance and song presentation.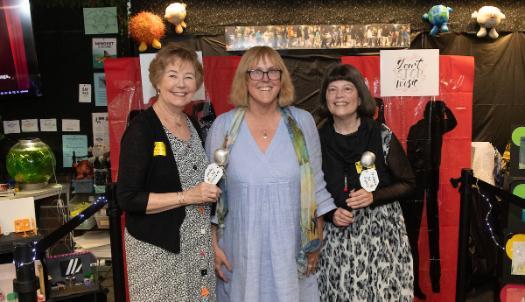 (lr) Professor Margit McGuire, College of Education, Barbara Bromley, Teacher, Hazelwood Elementary School, Laurie Stevan, Professor, College of Education.
Bromley has taught McGuire's Story Path unit before, and the two joined forces after meeting at a conference in December. For Bromley, teaching social studies through music made perfect sense because students love music and know how music can influence and shape their personal experiences and situations. was
"They have firsthand experience with war, immigration, drugs, etc. I knew they were passionate about making a difference," says Bromley. "In addition, we have been working with the mayor on a year-long project. We have participated in civic action projects such as improving traffic access issues near schools, learning about the government and its functions, and how to write the mayor's speech. This project gives them another way to be active in the community."
In structuring this unit with a focus on music, McGuire worked closely with Stevan to research and listen to songs, learn what existing songs in the public domain are, and use them for instructional purposes. I spent hours trying to get it working. McGuire made connections with people in the New York music industry to review the unit as an expert. This is done for each unit before publication. This contact proved particularly beneficial as it helped structure the music for influence, social justice and civic engagement, rather than for the money or fame that hit songs entailed.
In Bromley's class, students created songs on topics such as deforestation, wildfires, gun control, drugs, immigration, war, religious freedom, animal welfare and ocean plastic.
"My students connect with social learning by becoming citizens themselves through the unit. They were leveraging 21st century skills such as collaboration, creativity, communication and critical thinking," Bromley said of the team. from songwriting to designing the music and analyzing key resources such as images and interviews to help market your work.
Students are encouraged to spread their music beyond the classroom
"We are asking children to get involved in civic activism. Record your music and send it to your governor, your senator, or the Commission on Human Rights," McGuire said. McGuire is also working with teachers at Yakima, who plans to pilot the program for the fourth time. Scorer. "Ultimately, we want students to understand that their voices matter."
On May 31, Bromley's class unveiled original songs in a Grammy-style performance and awards ceremony, sharing their journey in the music studio.
For Bromley, some key takeaways came from this story pass experience.
"I watched my students match the lyrics to the melody they chose and overcome their performance anxiety when singing the song," she explains. "And while we understand that music motivates people to take action and join a movement, we compromise on the items we put in our music studio room."
There are countless students across the country who have participated in the Story Pass for many years, and McGuire says he often hears from students years later that they are still carrying on the lessons taught through this unit. One of those students was involved in his 2016 presidential election, and another of him ran for president. A campaign staffer told McGuire that the story pass inspired her future path.
"Storypath is Margit's legacy," says Stevern.
Learn more about Story Pass here.