Rising talent Henry Moody is one of the artists to watch in 2023, according to Amazon Music's Artists to Watch in 2023. Worldwide, he has 92 million streams, 3.5 million monthly listeners on Spotify, and already has his own headline show, so we'll be able to: I'm sure you'll understand why. With his new single "Pick up the Phone," Henry is more honest about himself than ever. To find out more about him, we took the time to chat with Henry and talk about his new single, headline shows, and more.
Hi Henry, Thank you for your time. Congratulations on your new single "pick up the Telephone" and your very own show at Islington's Academy! How does it feel to play the biggest headline show ever?
Thank you so much for having me! Islington was such a fun show. I'm still recovering from the show and feeling how good it was. It was so surreal and the audience was amazing. I was playing "pick up the Telephone" which hadn't been released yet, but it was surreal and a lot of fun because someone already knew the lyrics from the teaser I posted on TikTok! I'm actually already nostalgic because I won't be doing a headline show for a while. But it would be weird because it was kind of the end of the first era of my life.
So what is the new single "pick up the Telephone" about? Can you tell us more about this song and the process behind it?
I wrote this song in New York with a songwriter named Aldae. By the way, he is an absolute legend. I was going through this loop over and over, and quickly came up with a chorus melody, added a rhyming scheme, and I was like, 'Oh, this is disgusting! I wasn't quite sure what I wanted to write about it. I love writing breakup songs, but I wanted to write something more personal, so I decided to write about my journey with my mental health. it's been a big part of my life. So this was my chance to write about it. But instead of being a sad song, I wanted it to be more motivational and something that can help people get through difficult times. It starts out singing about dark moments in my life, but as the song progresses it becomes more uplifting, a kind of therapy and support all rolled into one. I want to help people in difficult situations.
It's a beautiful thing and it takes a lot of courage to write a song about it. Because I think it's pretty hard to write about such an important subject.
Well, it's very difficult to write about it. It's much harder than writing something about love. This is a kind of therapy. Because you have to be really vulnerable and it's pretty hard.
Was that where you started making music? As a way to express your feelings?
Well, it started as therapy. My mother is a therapist, so I was always in an environment where I could be open about my feelings. Songwriting was a way for me to express myself, and I think it really started during my school years. When I was 11 or 12.
What is your biggest inspiration when making music?
Well, my favorite artist is Taylor Swift and she's actually the reason I started making music. I don't think any of her albums have failed in the way she has created so many eras with some really great songs. I'm also very scared to get a ticket for her tour (laughs). But besides Taylor, my school is also a great source of inspiration. I feel like the music block at school has always been my home. My friends and teachers there were really inspiring. My friend Izzy and I used to cover Taylor Swift songs all the time at school. But at the time, I always found it embarrassing and embarrassing.
But now he's opening for The Vamps at the O2 Arena, has his own headline show, and even Amazon Music's 2023 Featured Artists. How the hell do you handle all these accomplishments? How do you stay calm?
I feel like it's still being processed (laughs). I am so grateful for the current situation. I went from 0 to 100, which is great because it's always been a dream. But it's really crazy to just keep appreciating everything that's going on and let it pass. That's how I stay sane.
You mentioned that mental health has been a big part of your journey. What other challenges have you faced in your career?
I don't know if it had anything to do with my career, but I also struggled with anxiety all the time. When I was a student, I had a tic disorder and was very anxious. I had a terrible period of panic attacks a few years ago. I think I learned a little bit how to deal with that. Obviously it hasn't gone away, but I try to reassure myself by thinking, "This is disturbing, it's going to happen." Now I know more about whether or not I feel more in control of it.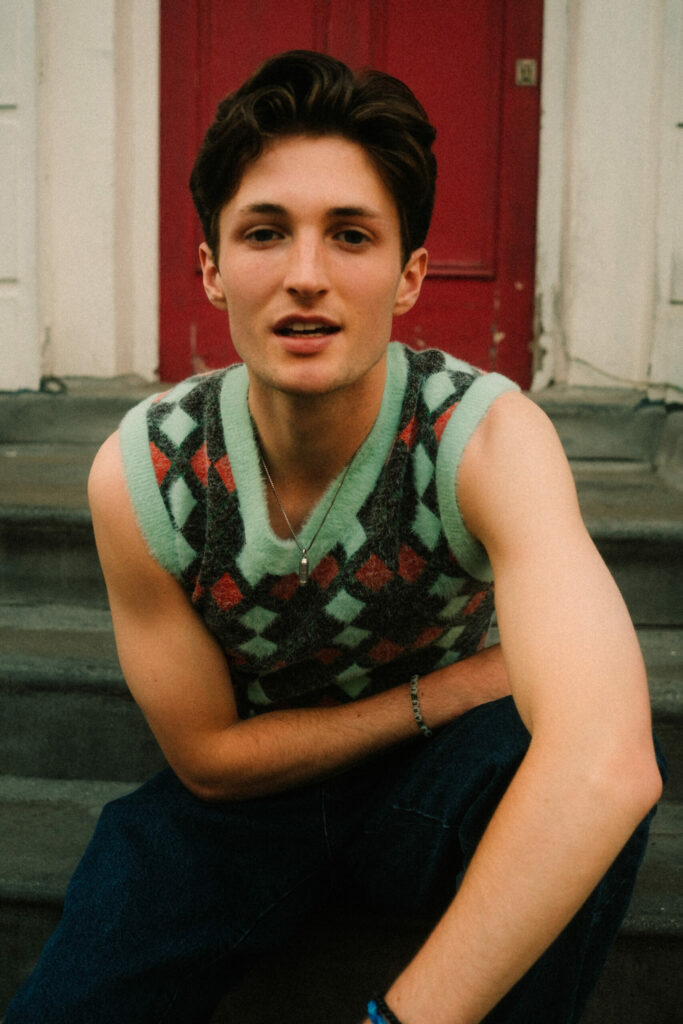 How was your first show?
My first solo show was supporting The Vamps in Manchester, so I was very nervous. I basically had stage fright, but now it's gone and maybe it's become normal for me. But yes, the first show was very scary, but their fans were so welcoming that after a few songs, that feeling was gone. I think playing in a small venue is actually scarier than playing in an arena, but I never expected that in my life. You can't actually see faces in the arena, but in smaller venues you see more faces, so it's like you're playing in front of more people than actually playing in an arena where you can only see the first few rows. I feel
What's your favorite thing about your career so far? Was that on that show?
To be honest, I think the show in Islington was the highlight of my career. It was such a fun show that I wanted to do it again. However, another headline show is slated for the future.
Oh.. Inspiring! Do you have any other dreams you want to achieve, such as opening for Taylor Swift?
My dream is to open for Taylor Swift! But I can't wait to release my first album. But my ultimate dream was to headline The O2 Arena in London, and after supporting The Vamps there I was like, 'Yeah, that's it!
I'm sure he will make it happen someday! Now for the last question, what can we expect in the near future?
I'm really looking forward to the music video for "Pick up the Phone" and it's due to shoot this week, so that's what I'm really excited about and probably the biggest thing at the moment. Future headline shows as well, whenever and wherever.
I would like to thank Henry for the pleasant conversation with us. Stream "Pick up the Phone" here.